Bella Bella BC Fishing Reports
Bravo to Joey of North Carolina by capturing the largest Tyee Chinook Salmon of our season thus far at 50lbs. in August.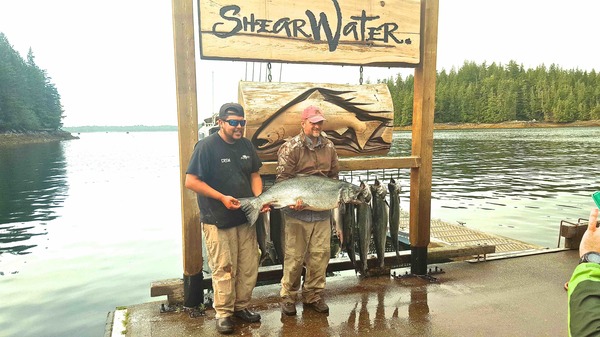 Hello everyone! – Our 2018 summer fishing season is still going strong, great numbers of Chinook salmon are still showing up with some days the average size being in the 30's, other days in the high 40's ++.
"As for the Coho, there seem to be more showing up every day and getting heavier! "
July Salmon Fishing Tips
The hot spots around Shearwater are numerous, no matter which direction you point your boat in the morning or afternoon, you're sure to have success. To the west is in Milbanke sound/Idol Point/Hose Point/Christensen Point/Dryad, to the South is Cultas sound, to the Southeast is Start or White points, to the North is Return channel and "Big Bluff" and close by to Shearwater is "old towns" which has been having a great morning and evening bite with Chinook salmon.
The water temperature is slightly higher than in years past so we're seeing the fish deeper than normal, between 60 – 100' down. As for productive lures, light coloured hoochies are working well behind any colour flasher as are various coloured spoons, and cut plug herring trolled naked (no flasher) are also producing many fish.
Bottom fishing is stellar as usual, any type of jig with a piece of salmon belly or herring chunk will do the trick! Just remember that there is a non retention of Yelloweye or commonly called Red Snapper anywhere on the coast and that the halibut size limits have reduced slightly this summer.
Stay up to date and stay informed!
Tight lines and see you on the water!
The Crew
June Salmon Fishing Report
Guests and locals are still enjoying the lovely spring weather on the central coast (even the odd rain squall!) and the fishing too!
Chinook of varying size are being caught locally to Shearwater – Lama Pass, Dryad Point, Idol Point, Image Island, Christiansen, Cheney, Return Channel just to name a few. With most of the go-to spots being mere minutes away from Shearwater, the night bite has been successful as well. Nothing better than watching the sun set with a couple rods in the water or a couple fish on the line!
Depths vary from place to place but typically, Chinook Salmon have been caught between 60-100' down and the lures of choice have been green/white hoochie, glow white hoochies, 4-5" silver spoons and small herring in a teaser head (helmet). All lures have been behind 11" flashers with leader size varying from 2.5' – 5', the longest being for the small herring in a teaser head.
And just this past weekend we had reports of some nice size (for June) Coho being caught – 10lbs!
As we move along in June the Chinook Salmon runs will continue to come through and the Coho fishing will certainly pick up!
This coming weekend is the Denny Island Fishing Derby, put on by locals, for locals and visitors, great prizes and a lot of fun, especially the wrap up party at the Fishermen's Bar & Grill!
See you on the water & tight lines!
The Crew